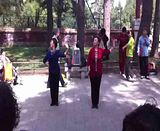 click to view:)
My husband just came home from a 3 weeks stay in China, where he made this video. I thought you might love these middle aged women and her joy in elegancy, movements and dancing....
–––––––––––––––––––––––––– ✻
Hallo liebe Besucher von MeinLilaPark! Mein Mann war von seiner Schule aus drei Wochen in China und hat von einem Spaziergang dort dieses Filmchen mitgebracht. Ich finde diese gestandenen Frauen mit ihrer Freude an Grazie, Bewegungen und Tanz derart toll, dass ich beschlossen habe, das Video mit euch zu teilen. Die Musik darin, die gelösten Gesichter der Tänzerinnen und die schlichte Art von allem berühren mich zutiefst und machen mich selbst gleich heiterer. Ich hoffe, euch geht es ähnlich!